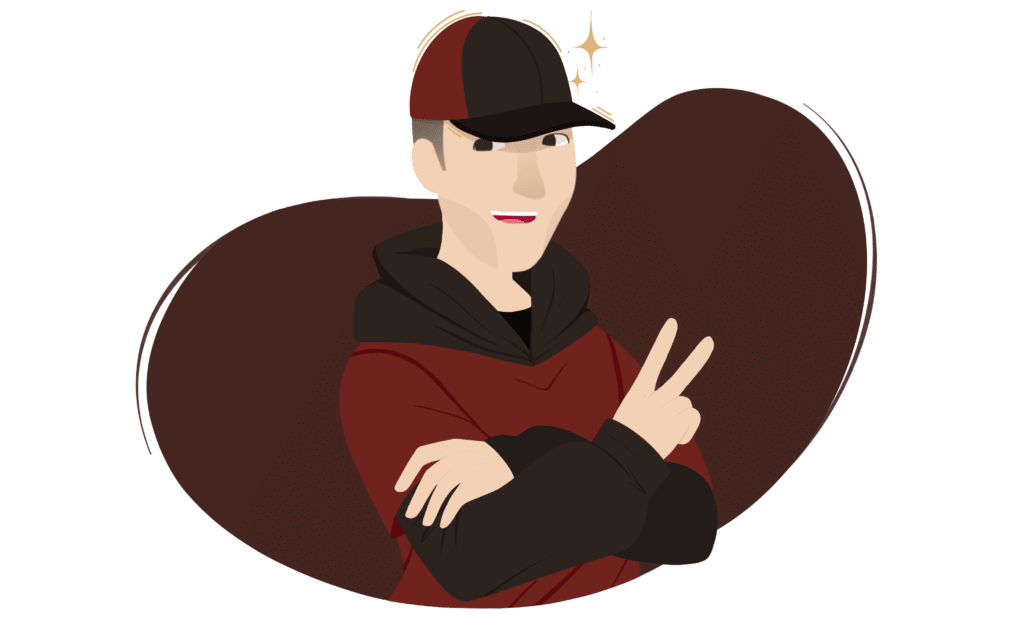 When it comes to style few things add to your look the way a hat does. An assortment of unique styles is available, from fedoras and bowler hats to top hats and Panama hats. The problem with these is two-fold: they're either too smart for everyday wear or don't fit your head. So what hat offers the perfect solution?
A new snapback hat, of course! These caps come in an assortment of styles, from the trucker hat with the flat brim to the baseball cap with the curved bill; there is a different style to suit everyone. And best of all? These hats come with an adjustable snapback closure so you can size them to fit your head perfectly.
While finding the perfect cap may seem like a simple task, it has become more challenging because not all snapback caps are made equally. To make things easier, we have researched the best snapback hats available and reviewed each of them. Hopefully, this makes it less challenging for you to find the best snapback cap for you.
When selecting the snapback hats for these reviews, we only wanted the best—each cap on this list ticks all the boxes for style, quality, adjustability, and versatility. We tried to find the best hats Amazon had to offer to make finding the right one for you quick and fun. So, let's take a closer look at the snapback caps the made the list.
1. Brixton Men's Snapback Hat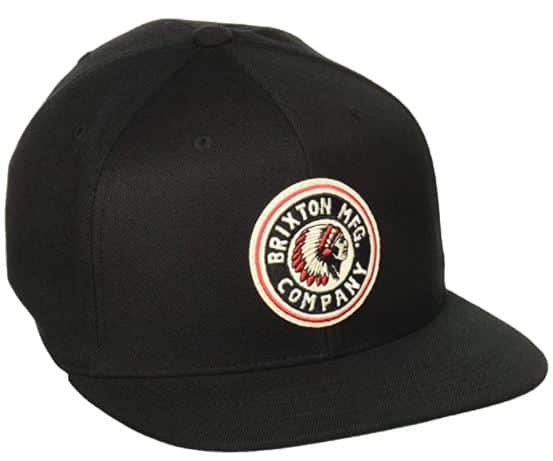 Brixton was founded in California with the simple goal of bringing people together. It all started with a hat, inspired by the cultures and people that surrounded the founders in their daily life. Today, it is a lifestyle brand that produces unique clothing items that unite musicians, artists, and travelers.
Inspired by the past but designed for the future, Brixton's headwear and apparel are for every man. Brixton Men's Rival Medium Profile Adjustable Snapback Hat is no exception. This contemporary take on the beloved baseball cap is the epitome of style.
Specs
Made from a blend of acrylic and wool
Medium profile
Structured crown
Adjustable snap closure
Who is it Best for?
If you're a fan of the humble baseball cap, then this one's for you. Brixton's snapback cap is perfect for anyone who loves caps but can never find one that fits. The adjustable strap at the back makes it simple to resize the hat to fit your head. No more chasing after your cap on windy days or constantly shifting it up and out of your eyes.
Men who enjoy buying an accessory in multiple colors to go with a range of outfits will appreciate the choice Brixton gives you. Their hats are offered in an assortment of shades, from grey and burgundy combo to black, maize, and even khaki.
If you're conscious of protecting your skin from the sun, then these caps will keep your face (or neck, depending on which way your wear it) shielded from the sun's UV rays.
Key features
Brixton's men's hat comes fashioned from a blend of acrylic and wool. The acrylic gives the cap its sturdiness and durability, while the wool adds a touch of softness and breathability.
This trucker hat comes as a one-size-fits-all; however, you can easily adjust it to fit your head thanks to the snapback closure that allows you to change the size accordingly.
The hat's six-panel construction gives it a medium profile and a structured crown, so the cap retains its shape. A small cutout in each panel allows the cap to breathe, keeping your head cool and comfortable.
Brixton's unique badge is embroidered on the front, just above the flat bill. This unique hat combines comfort, style, and quality to provide you with an accessory that will last.
Pros
Offered in seven unique colors
Embroidered Brixton patch
2. New Era Los Angeles Dodgers Baseball Cap 950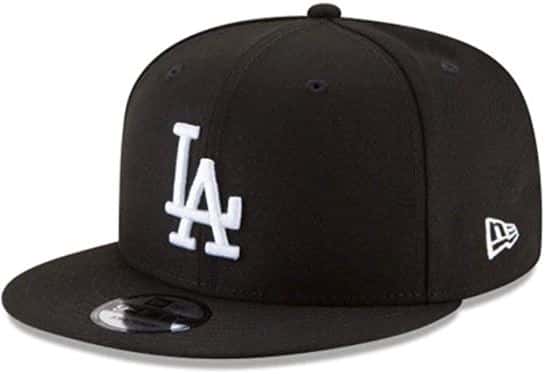 New Era was founded in the 1920s. Its humble beginnings saw the making of 60 000 Gatsby-style hats. In 1932, when professional baseball began to gain popularity, the brand saw a niche, the baseball cap. In 1934, they released their first professional baseball cap, and the company hasn't looked back since.
In fact, New Era became the only independent company to provide baseball hats to MLB (Major League Baseball). It makes sense then that we found the New Era Los Angeles Dodgers Adjustable 9Fifty MLB Straight Brim Baseball Cap 950 to be of the highest quality. This baseball cap certainly doesn't lack style either.
Specs
Made from 100% polyester
Adjustable strap
9Fifty snapback size
Los Angeles Dodgers embroidery
Who is it Best for?
If you're a fan of a particular major league baseball team, then this snapback cap is just what you need. MLB players have favored New Era baseball hats for decades, so as a fan, you can't go wrong. This stylish cap comes with an embroidered Los Angeles Dodgers logo on the front, making it perfect for the Dodgers fans out there.
Men who appreciate a well-fitted, sturdy baseball cap will enjoy these offerings by New Era. They are masterfully made and come with an adjustable snapback strap that allows you to size the hat to fit your head perfectly. Gone are the days of chasing hats that keep falling off in the wind. These are designed to fit your head snuggly and comfortably.
Key features
New Era fashions their caps from 100% polyester. By using this fabric, they ensure these hats are durable yet soft to the touch. Each of the six panels that make up the cap features a small embroidered hole that allows air to circulate between your head and the hat, keeping you cool and comfortable.
The flat bill offers a unique style and protects your eyes and face from the sun.
New Era offers this particular cap in three different color options, camo, black and white, and solid black, so you can find the one that best suits your taste.
While these one-size-fits-all hats are durable, they are best cleaned by giving them a hand wash and then line dries them in the shade.
Pros
Offered in black, white, and camo
3. RVCA Men's Va Logo Patch Snapback Hat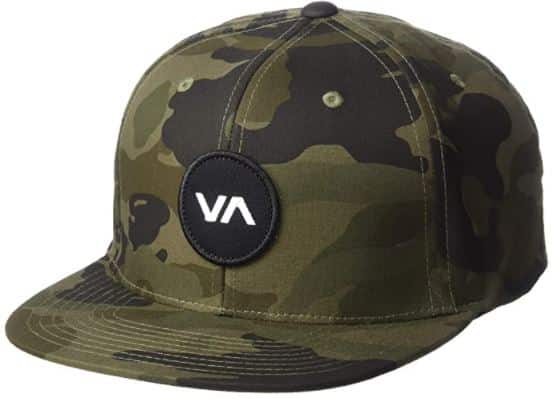 RVCA was founded to push the boundaries of your run-of-the-mill sporting apparel. This design-driven lifestyle brand transcends the concept of a passing trend, inventing its own look and feel that fits perfectly with every style and each occasion.
The RVCA Men's Va Logo Patch Snapback Hat is just one apparel item that demonstrates this notion. This sleek cap brings with it an edginess that is both timeless and distinctive. If you're looking for a hat that makes a statement, then this is your solution.
Specs
Made from a polyamide and polyester blend
Mid fit six panel construction
Structured front
Snapback closure
Who is it Best for?
Tired of searching for a flat bill snapback hat that stays put on your head while you skate? Then your search is over. This RVCA cap is designed to fit your head no matter what, keeping it firmly in place while you ollie and carve your way through the streets.
The hat features a snapback closure that the back, a system of raised nodules that match up with a line of holes. This closure allows you to widen or tighten the cap to have it fit your head perfectly.
If you're looking for a decent camouflage cap, then here it is. RVCA offers this hat in camo or black with a vibrant green under the bill. Both styles come with the RVCA logo embroidered on the front.
Key features
RVCA makes its snapback caps from a polyamide and polyester blend that forms a twill fabric. The hat's shape is achieved through a six-panel construction that sees the two front panels structured with reinforcing to ensure they retain their shape. The flat brim of the hat offers protection for your face and eyes from the sun while giving a sleek edge to your overall look.
Each panel sees an embroidered hole that provides breathability that will keep you cool and regulate your temperature to prevent sweating and discomfort.
The one thing to keep in mind about this cap is that you cannot wash it in the washing machine. To keep it looking new and smelling fresh, give it a gentle hand wash and hang it on the line to dry.
4. Burton I-80 Snapback Trucker Hat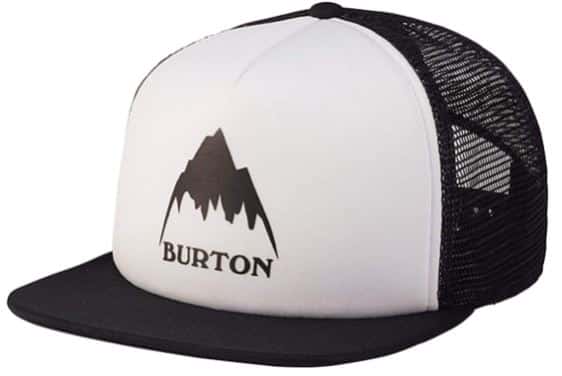 Burton was founded in Vermont in 1977. The brand focuses on designing and producing premium snowboards and snowboarding apparel. Each product is made to help you enjoy your outdoor experience like never before. Their innovation and sustainable use of materials make their designs both cutting edge and highly appealing.
Burton's I-80 Snapback Trucker Hat is perfect for wear in summer or the snow. The wide brim offers protection from the sun, while the hat itself is made to fit you perfectly.
Specs
Trucker snapback style
Mesh back
Adjustable strap
Flat brim
Who is it Best for?
Trucker hats differ from baseball caps in that the four back panels of a trucker snapback usually are made of mesh, while those of a baseball cap is fabric. If you're looking for a stylish trucker snapback, then take a closer look at this one. Burton offers a contemporary take on the trucker hat with sturdy mesh panels and a foam-lined front structure; this hat is as durable as they come.
If you love owning the same hat in various colors, you will enjoy the selection Burton offers. Their caps come in 21 unique colors that include a mix of red, white, and blue; purple, white, and lime green; and even a more subtle black and grey.
Key features
Burton's trucker caps are fashioned from durable polyester. They feature foam padding at the front to maintain their structure and see a mesh backing. This mesh allows for breathability, keeping your head cool and comfortable even on the hottest of days.
The back of the cap features a snap closure that makes it easy to adjust to fit your head. Unlike other one-size-fits-all hats, this one really will fit.
Another unique aspect of the trucker cap is the flat bill. This Burton hat comes with a stylish flat brim to shield your eyes and face from harmful UV rays while adding a touch of style to your cap.
The cap offers more than just style; it is pretty convenient too. When it comes to keeping it clean, a simple machine wash will do the trick.
Pros
Offered in 21 unique colors
Foam front
Machine washable
Cons
The hat is not a flexfit design
5. Volcom Men's Quarter Twill Snapback Hat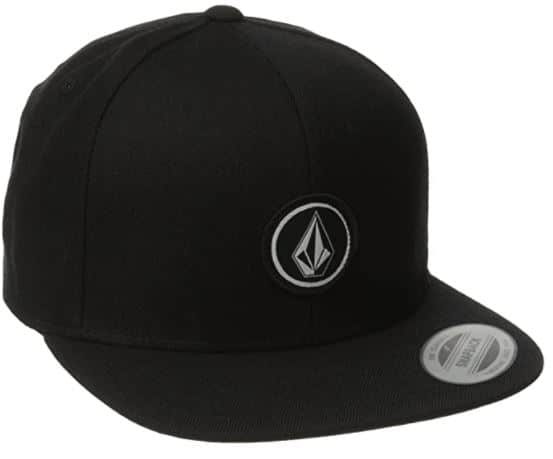 Founded in 1991, Volcom has been creating apparel for those with a passion for chasing their dreams. Volcom initially designed this unique sportswear for surfers, skateboarders, and snowboarders. Today, it is loved the world over by individuals from all walks of life.
The Volcom Men's Quarter Twill Snapback Hat is one product the brand creates that we just had to share with you. Designed for comfort and style, this snapback hat is one for all occasions.
Specs
Cotton and polyester twill blend
Six panel construction
Flat brim
Snapback closure
Who is it Best for?
If you're into the flat brim style, then this cap is for you. Volcom offers this unique snapback hat with a fashion-forward flat brim that doubles as the perfect way to keep the sun out of your eyes and off your skin.
Volcom understands that each man is unique, so why shouldn't his hat be too? They offer this hat in three color options that include solid black, white and navy, and red and black. If you're into having the same hat in multiple shades, this selection is perfect for any wardrobe.
When it comes to keeping your hat clean, not everyone has the time or patience to hand wash it. In today's fast-paced world, convenience is key, and Volcom knows it. They have made these cap machines washable, keeping things simple and fuss-free.
Key features
Volcom fashions their snapback hats from twill, a blend of cotton and polyester that offers a soft yet durable nature. The cotton allows for breathability, keeping your head cool and comfortable while you wear the hat. In our opinion, there is nothing worse than a hat that causes your head to become hot and sweaty, and with a Volcom hat, you can be sure this won't happen.
The snapback strap at the back of the hat allows this one-size-fits-all to truly fit all. The adjustable strap allows you to fit the circumference of the cap to the shape of your head. No more chasing your hat down the beach or across the skatepark while the wind has its fun.
A Volcom Stone patch at the front of the cap gives it its authenticity and a touch of style.
Pros
Offered in three unique colors
6. Adidas Men's Snapback Cap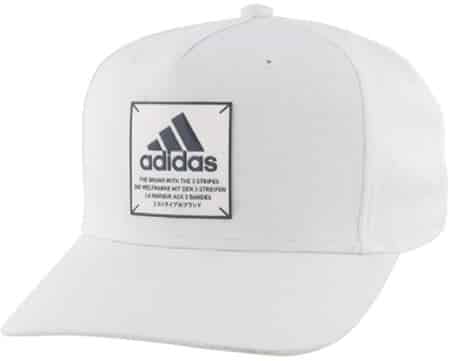 Adidas was founded in 1924 by a man named Adi Dassler. Dassler sought to provide athletes with top-quality sportswear and created his first pieces of apparel in his mother's wash kitchen. In 1949 he registered a shoe with three stripes that today is internationally recognized. Expanding from sports shoes to tracksuits and other apparel, the brand grew to new heights to the well-loved icon it is today.
The Adidas Men's Affiliate High Crown Structured Snapback Cap is one small example of the brand's emphasis on quality and design and is a cap well worth owning.
Specs
Made from 100% polyester
Five panel structure
Snapback adjustable closure
High crown design
Who is it Best for?
Men who love brand clothing will enjoy this snapback cap. It comes with a minimalist badge on the front that subtly yet firmly gets the message across that this is a hat worth owning. The hat's interior seam tape also features this prestigious logo, adding to the cap's authenticity.
Adidas offers their trucker hat in an assortment of shades so you can own a variety to mix and match with your favorite outfits. The colors include white, indigo, grey, and even earth green.
If you have no problem taking a little extra time to care for this accessory, it is worth adding to your cap collection. Adidas's snapback hat requires a little care when it comes to laundering and should only be hand washed and line dried. Don't ever place this hat in bleach; the results would be disastrous.
Key features
This snapback cap features a five-panel structure and, as a result, has a high crown. The hat comes fashioned from 100% polyester, a fabric that is both soft to the touch and highly durable.
The slightly curved bill is moldable, so you can shape it to your liking while still protecting your face and eyes from the sun's UV rays.
The design of this hat includes an adjustable snapback closure. This strap makes it easy to fit the size of the hat to suit your head, ensuring that the cap stays put and doesn't sit uncomfortably.
Each panel in the hat features an embroidered opening. These not only add style to the hat but are functional too. They allow for breathability, keeping your head from overheating while you wear the cap.
Pros
Offered in seven unique color options
7. NUZADA Snapback Hats Adjustable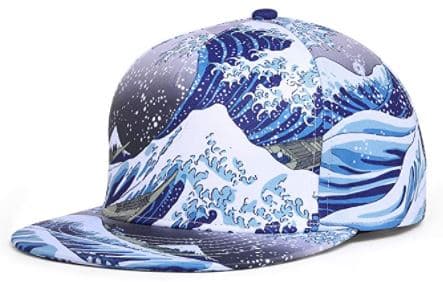 Nuzada is a brand that specializes in the hip-hop culture. Their focus is on providing the world with hats that tell stories and give way to imagination, all while offering comfort, quality, and durability.
The NUZADA Snapback Hats for Men Hip Hop Baseball Cap Straight Brim Adjustable is just one of the brand's many offerings. Their unique hats feature bright and whimsical designs that leave you wanting to collect them all.
Specs
Made from cotton, polyester, and nylon blend
Adjustable snapback closure
Fade-resistant print
Unisex
Who is it Best for?
If you're a fan of color and vibrant prints, you will appreciate these snapback hats. Nuzada offers their caps in an assortment of vivid images that don't just look cool, but that tell a story. Each print is provided in full color, leaving you with a hat that speaks to your sense of style. There is something for every taste, from anime waves and Japanese-style images to graphic art and even watercolor designs.
Nuzada uses an environmentally-friendly printing process to achieve their vibrant and captivating designs, making these hats great for anyone conscious of their impact on the world around them.
Men who prefer a flat bill or brim on their baseball caps will want to look a little more closely at these. They come with a flat visor that enhances the images printed on the hat.
Key features
Nuzada caps are made from a blend of polyester, cotton, and nylon, a fabric that offers breathability, so your head remains cool and comfortable, as well as durability. These hats are made to last, so you can enjoy them for many years to come.
A snapback strap closure at the back of the hat allows the hat's circumference to be adjusted. This detail makes it simple to resize the cap to fit your head perfectly. The strap is quick and easy to change, so you can spend less time fussing and more time enjoying your new hat.
Nuzada's baseball caps come with a unique hip-hop style print to them, and while this makes them look incredibly awesome, it also means that they are to be hand-washed only, as machine washing could cause the prints to fade.
Pros
Offered in various colors and designs
8. Columbia Snap Back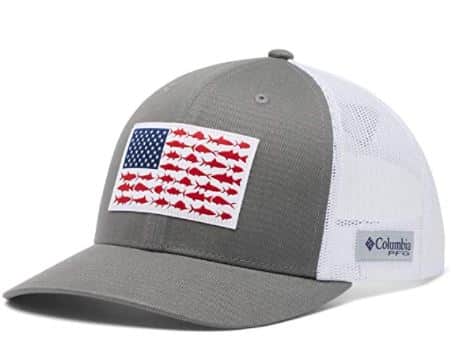 Columbia Sportswear is a global outdoor wear brand. The company was founded in 1938 to create durable and comfortable activewear. Nearly a century later, the brand uses the latest innovations and industry-leading technologies to offer apparel that is internationally recognized.
The Columbia Unisex-Adult PFG Snap Back Fish Flag Ballcap is the perfect example of the style the brand infuses into their clothing. This trucker hat is not only fashion-forward; it is functional too, and best of all, it's made to last.
Specs
Baseball hat style
Mesh back
Made from a blend of cotton and elastane
Curved brim
Who is it Best for?
If you prefer the trucker-style hat that comes with a mesh back, this cap will leave you smiling. Colombia fashions four of their six cap panels from mesh to offer a more contemporary look and feel to their headwear. The mesh, while a great design feature, is functional too. It allows air to circulate between your head and the cap, regulating your temperature and preventing you from overheating.
If you love collecting caps in a variety of unique colors, the Colombia unisex cap is one to take a closer look at, as the brand makes this particular one in an assortment of vivid shades. There is a combo to suit every taste, from titanium and white to pale lime and white, and even a blend of aqua, navy, and white.
Key features
Colombia's fishing hat comes with a badge that offers a unique take on the American flag – the stripes are now fish. The cap itself features a six-panel structure and a curved bill that keeps your eyes and face or neck shielded from the sun, depending on which way around you wear it.
Colombia crafts the two front panels of the cap from cotton and elastane, which adds comfort, softness, and breathability to the hat.
The snapback closure at the back of the baseball cap makes it easy to adjust the size to fit your head. No matter where you wear your cap, whether it be on a fishing trip, a hike, or a day out with the family, you can be sure your hat will stay where it's meant to, on your head.
Pros
Offered in ten unique colors
Cons
Color may run – hand wash only
9. Mitchell & Ness Foundation Script Snapback Cap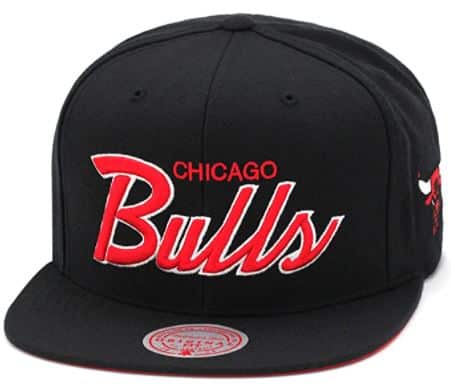 Mitchell and Ness were founded in 1904 as a brand that focused on sporting goods and the production of Philly baseball and football uniforms. Today Mitchell and Ness specialize in authentic vintage apparel and uniforms from the MLB, NBA, NFL, and NCAA.
The Mitchell & Ness Foundation Script Snapback Cap is just one of the items of apparel they offer and is a must-have for sports fans nationwide. The stand-out embroidery in the various team's colors and logos is the ideal way to show your support for your most-loved sports teams.
Specs
Chicago Bulls embroidered logo
Snapback closure
Made from a wool blend
Flat bill
Who is it Best for?
If you're a die-hard fan of your favorite sports team, then you need a cap by Mitchell and Ness. Whether you support the Chicago Bulls, the New York Knicks, or the Brooklyn Nets, you can find a hat with your team's emblem embroidered on the front.
These hats come in an assortment of colors, each representing a particular sporting team.
If you enjoy wearing a cap that keeps your head and face protected from the sun with a flat bill, then this hat is just the thing you need. Mitchell and Ness design their caps to be durable, fashionable, and functional, so you always look and feel great.
If you collect sports apparel for your bar or pub, then these snapback caps are ideal.
Key features
Mitchell and Ness fashion their snapback closure hats from a blend of acrylic and wool that makes them durable, sturdy, and soft against the skin. These hats are also breathable, so your head doesn't overheat while you spend time in the sun.
The adjustable snapback closure at the back of the hat allows it to fit your head. This ensures the hat sits neatly on your head without slipping over your eyes or blowing off in the wind.
These officially licensed hats, while durable, should be laundered with care. Hand washing your hat will make it last longer and preserve the vibrancy of the colors. The one-size-fits-all sizing makes these unisex caps great for men and women, so you and your family can wear them to your favorite games.
Pros
Offered with three sports team logo options
Things to Consider When Buying Snapback Hats
When it comes to buying a snapback, there are a few things you will want to keep in mind. The design, sizing, brand, and kind of fashion statement you want to make will all factor into your choice. Let's examine each of these a little more closely to see why they're worth considering.
1. Design
The overall look and feel of a snapback cap are typically the same. They come with a flat brim, a six-panel construction, and an adjustable strap at the back. But, they often differ in their visual design. Here are a few design choices you can opt for:
Flat Color: These caps usually come in a standard solid color, a mix of block colors, or in a pattern such as camouflage. Solid colors such as a plain black snapback pair well with just about any outfit and can be dressed up or down. The use of block shades or colorways such as a pale green cap with a white brim and a deep teal snap closure offers a more retro look but is more challenging to pair up with outfits.
Prints and Collabs: A collaboration between two brands or a brand, and a favorite sporting team, musician, or artist can see a new take on the typical snapback. This gives a new look and feel to the apparel while cleverly marketing the brand.
Sporting Teams: These caps are more than just your average streetwear apparel. They offer fans a way to show their support for their favorite team. These snapbacks are made to support a wide range of athletes and teams such as the NBA, NFL, and MBL. Colored in the correct colors and embellished with the team's name or logo, these hats are great collector's items too.
2. Brand
Snapbacks are sold by a vast assortment of brands, from outdoor apparel makers such as Colombia, sporting brands such as Nike or Adidas, and lifestyle brands such as RVCA, Neff, and Volcom. Each offers its take on the humble snapback, and with that comes a variety of unique styles and prints.
Finding the brand that most appeals to you will come mainly from personal preference and activities. Sportspeople may opt for a hat from Nike, while surfers may choose a snapback from Volcom. Ultimately, the choice is yours.
3. Fashion Statement
Give a little consideration to the fashion statement you intend to make with your snapback. Are you wearing it more for functionality, to protect you from the sun? Or, are you looking to support your favorite NBA team?
Finding the right hat for the right occasion will make it easier to find a hat that suits your style while ensuring the one you choose doesn't become that typical dad hat our fathers slap on for any and every outing.
4. Sizing
When buying a hat, it is essential to remember that not all caps are adjustable.
Stretch: A snapback hat that comes with a flexfit style features an elastic band around the circumference of the hat, allowing it to fit your head more snugly. The fabric used to make these hats is not as sturdy as your typical snapback hat.
Fitted: baseball caps are usually fitted and don't come with an adjustable strap back design. This means they are made to fit a specific circumference. It is always best to try these on before you buy them.
Strapback: These caps are adjustable and make it simpler to shift the size of the hat to fit you perfectly.
When it comes to buying the best snapback cap, there is an assortment to choose from. Variations in style, design, and quality all play a role in determining your hat's durability and value. Whether you simply want a cool hat to pair with your new t-shirt or a cap to show your support of your favorite sports team, we hope our reviews have set you in the right direction.
Our top pick goes to Volcom's snapback. It is functional, sturdy, and stylish. What more could you want from a hat?
The post The Best Snapbacks for 2021 appeared first on PrimandPrep.
Original source: https://www.primandprep.com/snapbacks/