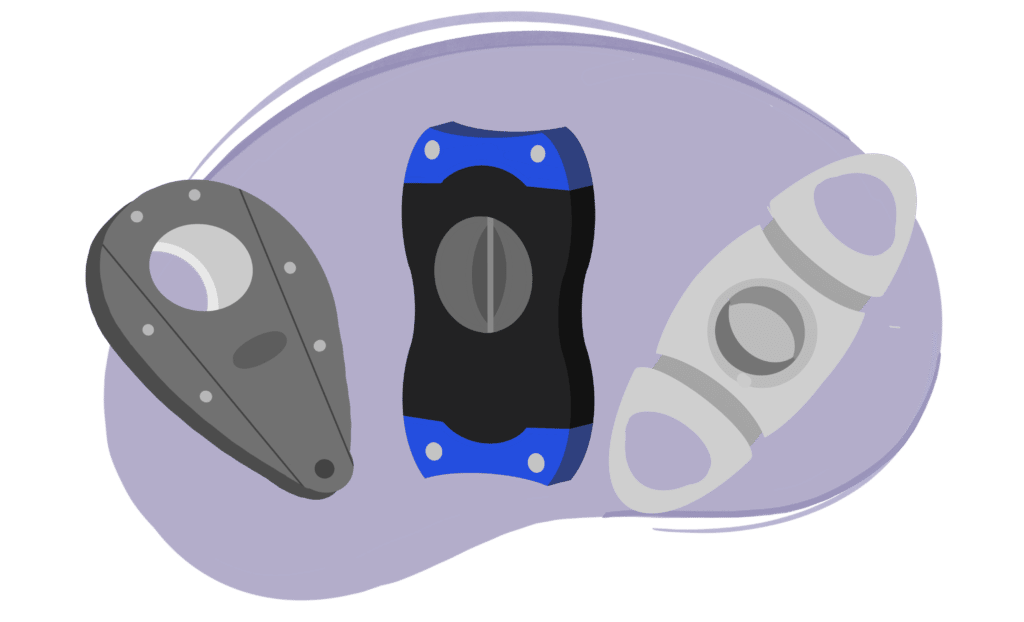 As a seasoned cigar smoker, or even as a newcomer to the world of cigars, one of the accessories you need is a quality cigar cutter. Unfortunately, not all cigar cutters are made the same.
There are a variety of styles, shapes, gauges, and price brackets. A unique cutter to suit every need.
With so many options available, we decided to review the best cigar cutters out there to help you find the one that complements your smoking experience. Keep reading to find out which ones made the cut.
To bring you a well-rounded review, we scoured the web seeking the best cigar cutter in various styles. The cigar cutters that find themselves on this list do so because of their quality and durability. Let's dive in to see what these cigar cutters have to offer.
1. Xikar Xi1 Cigar Cutter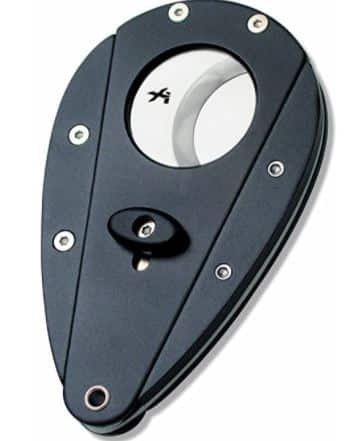 Xikar claims to be "the best thing to happen to cigars since fire," and while you will have to prove this theory for yourself, we wouldn't be surprised if they were right. Xikar was founded in 1994 when one of the two founding members found himself unable to find a cigar cutter that adequately did the job. The rest, as they say, is history.
Xikar is known for its iconic and unique cigar cutters. Their Xi1 Cigar Cutter is just one of them. Recommended by cigar enthusiasts the world over, these cutters offer razor-sharp blades for the perfect cut every time.
Specs
Stainless steel blades
Rockwell HRC 57 rating
54 Ring gauge
Double guillotine
Who is it Best for?
If you like keeping your finger on the pulse of the latest trends and most iconic looks, then Xikar's Xi1 cutter will leave you smiling. It features the renowned tear-drop shape synonymous with Xikar. It also comes in an assortment of vibrant colors, making it simple to find one that most suits your sense of style.
This impressive cutter's compact size allows you to hold it in your pocket with ease or fit it neatly in your cigar pouch. Its easy-to-carry nature makes it suitable for men who love to enjoy a cigar while they are out and about.
This cutter is designed to work with 54 ring gauge cigars and cuts up to a 60 ring gauge. If you prefer smaller to medium cigars, then this cutter is a must for you.
Key features
Xikar's cutter is considered by many to be the best guillotine cigar cutter on the market. It features a double guillotine action for smooth cutting. The spring-loaded design of the blades also works to provide an even, clean cut.
The stainless steel blades are a force to be reckoned with, featuring a Rockwell HRC rating of 57. For those who are unsure, this rating places these blades as some of the hardest, sharpest ones you can find. What makes these blades even more impressive is that they are resistant to rust and corrosion.
Xikar's unique tear-drop shape covers more than just style. It offers an ergonomic grip that makes it easier to hold and maneuver.
Pros
Offered in black, blue, or red
Cons
Not designed for large ring gauges
2. Colibri V-Cut Cigar Cutter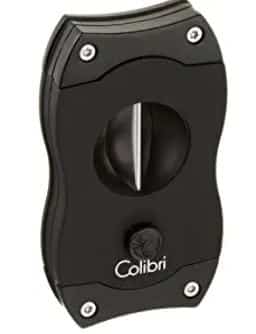 Colibri, founded in 1928, has spent nearly a century creating smoking accessories. Known for their innovation, Colibri first launched their Colibri V-Cut in 2013. This unique cigar cutter offered cigar smokers a new way to enjoy the cut on their cigars.
Today, the Colibri V-Cut Cigar Cutter is just as popular. So much so that we had to review it on our list. This sturdy cutter fits into the mid-range bracket in terms of pricing, offering impressive quality for money.
Specs
Cuts up to a 60+ ring gauge and torpedo shape
Stainless steel blades
V-cut shape
Spring-loaded
Who is it Best for?
Men who enjoy a v-cut cigar will enjoy Colibri's v-cut design. Arguably the best v-cut cigar cutter around, it offers a sharp, precise cut.
If a compact and neat cutter is what you are after, then you, too, will love this one. It fits easily into a pocket or pouch without taking up too much space.
When it comes to options, this handy device offers plenty when it comes to design. Colibri offers this v-cut in an assortment of colors, including black, blue, gold, and even brushed rose gold. There is something to suit every taste, personality, and style.
Whether you are already a fan of the v-cut style cutter or you are looking to try something new, this is a cigar cutter we recommend.
Key features
The Colibri V-Cut is both neat and comfortable to hold. It is designed ergonomically to fit comfortably in your hand, making it more straightforward and more efficient to use.
This cutter comes with spring-loaded stainless steel blades that offer a clean cut. The stainless steel nature of these blades means that rust and corrosion are not something you will encounter.
The blades' v-cut shape allows you to cut a precise wedge in your cigar, allowing for maximum flavor.
Colibri's V-Cut offers impressive versatility. They are ideal for use with larger ring gauge cigars and torpedos, so whichever is your preference, this cutter has you covered.
Included with the cutter is a stylish black gift box. Whether you use it as a gift for a cigar-loving friend or you use it as a neat storage facility, it is up to you.
Pros
Offered in six unique colors
3. Alaska Bear Cigar Cutter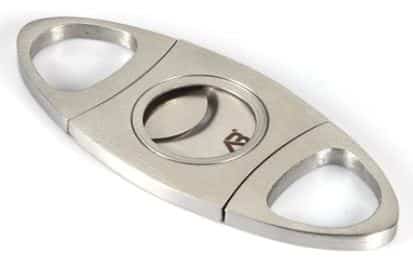 The Alaska Bear Cigar Cutter is as impressive as it is sturdy. Its sleek and elegant shape perfectly balances out its robust design and materials. A fantastic tool for the price it is offered at, this cigar cutter is one we highly recommend adding to your collection.
Some of the most committed cigar smokers choose this stogie cutter as their tool of choice, leaving no doubt in our minds that it is a cutter worthy of owning.
Specs
Stainless steel blades
Double-cut guillotine
Self-sharpening
Cuts up to a 60 ring gauge
Who is it Best for?
If you are looking for the best guillotine cigar cutter for your money, then the Alaska Bear cigar cutter is it. Featuring a sturdy, solid design and a price point that sits on the lower end of the spectrum, this cutter is one to add to your collection.
Alaska Bear offers this unique guillotine cutter in a sleek brushed stainless steel or gleaming antique bronze. This offering of color allows you to select the one that best suits your taste and personality.
These stogie cutters make for a fantastic gift for the man in your life who loves a good cigar. Whether it's your dad, grandfather, brother, or boyfriend, they will love this hardy cutter.
Key features
Alaska Bear's Cigar Cutter comes fashioned from brushed stainless steel. This durable material matches the sturdy design, and better yet, it won't rust or corrode.
The double guillotine blades offer unmatched sharpness, providing your stogies with a precise cut each time. What adds further to this cutter's unique nature is that these blades are self-sharpening—no more fussing about trying to have your blades sharpened.
When it comes to versatility, this cigar cutter takes top prize. You can use it to cut pretty much any cigar style, from torpedoes to parejos and even robustos. The cutter's large diameter makes it simple to cut cigars up to a 60 ring gauge, so whatever you smoke, you are guaranteed a good cut.
A neat gift pouch comes included, too, making it easy to gift or store this top-quality stogie cutter.
4. Colibri Quasar Two-In-One Tabletop Cutter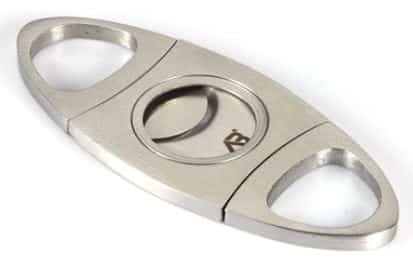 Colibri does it again, but this time with their Quasar Two-In-One Tabletop Cutter. Colibri provides you with a unique tabletop cutter, offering an innovative solution to all your cigar cutting needs. As always with this brand, the cutter they offer is sturdy, durable, and unique.
And while the design errs more on the side of contemporary, the features this cutter offers are remarkable. Even those who favor the more classic look and feel won't be able to resist this cutter and all it has to offer.
Specs
Tabletop style
Includes a V-cut that cuts up to a 60 ring gauge
Includes an S-cut that cuts up to a 70 ring gauge
Stainless steel blades
Who is it Best for?
This tool is designed for any cigar smoker who is looking for a unique tabletop cutter. It offers a modern look and form that will leave most users impressed.
Seasoned cigar smokers will revel in the features this cutter has to offer. This tool sits at the top end of the price spectrum, making it perfect for the avid collector of cigar tools and paraphernalia.
If you are a man who appreciates options, then this stogie cutter won't disappoint. It comes in gunmetal grey, black, silver, and a fire-engine red. These color offerings make it easy to find the tabletop cutter that best fits in with your bar or cigar lounge's decor.
Colibri's tabletop cutter also makes the perfect accessory for any hotel bar or cigar lounge. Its versatility and elegance making it a must-have tool.
Key features
When it comes to features, the Colibri Quasar offers them in abundance. Unlike your regular tabletop cutters, this one provides two cutting styles. Colibri has integrated both their V-cut and S-cut blades into this remarkable tool.
The V-cut works with cigars up to a 60 ring gauge, with the straight cut, will work with any cigar up to a 70 ring gauge.
This stogie cutter offers an impressive design, presenting itself as a sleek pyramidal form. A light touch on the top of the pyramid causes the tool to open up in one smooth motion. Four pistons make this movement a swift and effortless action.
A sturdy rubber gasket fitted to the bottom of this cutter prevents it from sliding about while in use. However, its substantial weight of over a pound keeps it in place too. The base also features a removable cap for easy cleanup.
Cons
Not the most aesthetically appealing
5. The Big Easy Tobacco Co., Quad Table Cigar Cutter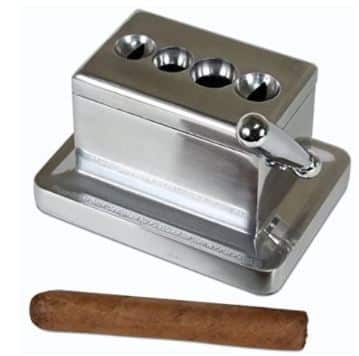 Another tabletop cutter we knew had to be included in this review is The Big Easy Tobacco Co. Quad Table Cigar Cutter. Established in 1994, The Big Easy Tobacco Co. specializes in an assortment of smoking-related items, including ashtrays, humidors, and cutters.
This classic take on the tabletop cutter offers both quality and style. It is simple to use and impressive to look at, making it the ideal addition to any smoke room or bar.
Specs
Tabletop style
Designed for 52 and 60 ring gauges
Offers a straight cut with two guillotine cutters
Offers four cutting holes
Who is it Best for?
If you are looking for a stable yet elegant tabletop cutter, this one is for you. Fashioned after a classic look and featuring a gleaming silver finish, this cutter is a modern take on an old-school aesthetic.
Whether you are looking for a cutter for your bar, smoke room, or hotel cigar lounge, this cutter is ideal. This cutter sits at the lower end of the price spectrum and is perfect for those who aren't looking to break the bank.
This stylish cutter's cost-effectiveness makes it ideal for those who are starting their journey into the world of cigars. If you decide cigar smoking is not for you, you won't have overspent on accessories.
Key features
The Big Easy Tobacco Co's Quad Table Cigar Cutter comes with an elegant brushed finish. It takes on the look of a more traditional cigar cutter, making it a hit with those who love a vintage style.
The cutter features four cutting holes. These include a guillotine v-cut and a series of straight cuts to cut various ring gauges. The manufacturer state that the blades work with 52 and 60ring gauges.
While we aren't sure what material they make the cutter from, it comes across as sturdy and durable. The handy lever makes cutting your cigars a quick and easy task and adds a little fun to the process too.
If you are looking for an inexpensive tabletop cutter that looks great and gets the job done, then this is it.
6. Vertigo Big Daddy 80 Ring Gauge Cigar Cutter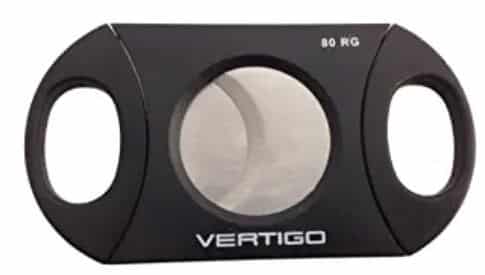 Vertigo's Big Daddy 80 Ring Gauge Cigar Cutter is one cool cigar cutter. Cigar fanatics cite this as the best plastic cutter they own. The fact that it cuts up to an 80 ring gauge cigar makes it even more popular.
Vertigo is a popular brand among seasoned smokers and with good reason. They offer premium products designed to be as efficient as they are fashionable. This stogie cutter is no exception, and while it may be small, it sure is useful.
Specs
Stainless steel blades
Cuts up to an 8 ring gauge
Compact design
Offers a sharp, even cut
Who is it Best for?
If you love smoking 80 ring gauge cigars, but you're tired of having to use even the best cigar punch on them? Then this Big Daddy Cigar Cutter is precisely what you need. It is the perfect size to lop off the top of your cigar with astounding precision and ease.
Perhaps you prefer a smaller cigar cutter that you can slip into your pocket with ease. If you do, then Vertigo's cigar cutter will be right up your alley. Its neat form and sleek design make it understated but highly functional.
These cutters also make the best gift for anyone who prefers larger ring gauge cigars. Finding a blade that works well with these can be challenging, but present your cigar lover with one of these stogie cutters, and you'll be in their good books for life.
Key features
Arguably the best cigar cutter out there, Vertigo's Big Daddy is as functional as they come. The understated design places the emphasis firmly on the effectiveness of the blade.
The cutter features a plastic body and stainless steel blades. The plastic leaves the cutter light in your pocket, while the edges offer a razor-sharp cut. What makes these blades even more remarkable is that they are resistant to rust and corrosion. And don't be put off by the plastic; this stogie cutter offers premium quality that cigar aficionados love.
The double guillotine-style blades make chopping the top of your 80 ring gauge cigar a simple task.
This cutter sits at the lower end of the price bracket, making it a real steal. You rarely get such a quality product without having to fork out more than you bargained for.
Cons
Does not include a gift box
7. Original Perfect Cigar Cutter Dos Chabetas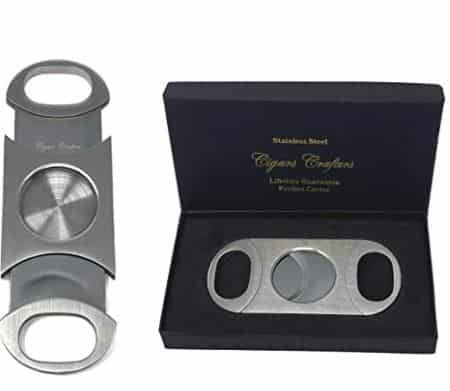 The Perfect Cigar Cutter Dos Chabetas is designed for use with large ring gauge cigars. An elegant cutter that offers both an eye-catching classic look and a sharp, precise cut is a must-have tool.
Loved by cigar smokers over the world, this durable cigar cutter with a backstop design is versatile and reliable. Whether you are a novice in the cigar realm or a seasoned smoker, this is one cutter you need to add to your collection.
Specs
Cuts up to an 80 ring gauge
Stainless steel blades
Self-sharpening blades
Ergonomically designed
Who is it Best for?
If you are the kind of guy who loves smoking big, fat cigars, then you need this cutter. It offers precise cutting of cigars with an 80 ring gauge. No more using a cigar punch on your favorite stogies.
Those who are new to smoking cigars will love this cutter too. Often it can be challenging to guess how much of the cigar to cut.
The Perfect Cigar Cutter is made to help you with this. It comes with a handy backstop that prevents you from cutting off more of the cigar than you should. Never again will you take off too much or too little, with this cutter taking out the guesswork.
If you are looking for a gift for a loved one who loves smoking cigars, then this cutter is a winner. It comes packaged in the most elegant black box, ready for a bow.
Key features
The Perfect Cigar Cutter comes fashioned from brushed stainless steel. This material is impervious to rust and corrosion and offers a sturdy and durable form.
A built-in backstop helps you cut off the right amount of tobacco and prevent offcuts from falling on the table or bar counter. Instead, the chopped off tobacco falls into the chamber of the cutter to be discarded at your convenience.
This cutter's sleek and compact design makes it easy to carry with you in your pocket or cigar pouch. It features a guillotine-style blade that works well with Torpedo and Figurado cigars too.
The blades are razor-sharp and offer a precise cut, allowing you to pull an even draw each time.
Pros
Offers a double guillotine action
Cons
Not everyone will appreciate the back wall
Things to Consider When Buying Cigar Cutters
When it comes to buying a cigar cutter, there are a few things to take into consideration. While we have provided you with reviews on some of the best cutters you can find, narrowing them down to the one that best suits your needs will depend on your personal preferences. Once you have taken all the options into account, it becomes easier to pinpoint the style or shape that most appeals to you. With that being said, let's take a closer look.
1. Blade Shape and Style
There are a few styles of cigar cutter on the market, including a V-cut, a double-action guillotine, and scissors or a multi-tool. While multi-tools offer a lightweight and easy to carry design, we will focus on the more traditional cutters.
V-Cut – The V-cut is slowly but surely gaining popularity. These cutters create a wedge-shaped like a V in the tip of your cigar. This v-cut is less likely to cause your wrapper to unravel and is often more compact than a guillotine cutter.
What has prevented these cutters from taking over from the guillotine-style is that you can't use them for cigars with a tapered end, such as torpedoes.
Double-Action Guillotine – The guillotine-style cutter is far more common and overall greater in popularity. These feature a double blade that cuts the cigar from above and below. Cigar fanatics claim this gives a far more even cut.
These stogie cutters come fashioned from a range of materials, from plastic to stainless steel. We suggest, if you go for a plastic one, choose a more sturdy and quality cutter, to ensure it won't break.
The guillotine cutter comes in an assortment of sizes and can cut pretty much any cigar on the market, tapered ones included.
2. Gauge
Taking into consideration the ring gauge of the cigars you smoke is essential. Not all cigar cutters are designed to cut all gauges. Some are designed only for cigars up to a 60 ring gauge, which is problematic if you are accustomed to smoking a 70 or 80.
The larger the ring gauge of your cigar, the sharper you will want the blade to be, too, as a dull blade can tear or ultimately damage your cigar.
3. Spring-Loaded
Not all stogie cutters come with a spring-loaded blade. However, if you smoke large gauge cigars, you want to make sure it is incorporated into your cutter. The reason for this is that the spring adds extra force behind the blades for a cleaner cut. A cleaner cut means a more even cut and a better tasting cigar. When cut with precision, the tobacco in your cigar is far less likely to unravel.
4. Size
Cigar cutters typically come in two sizes, a tabletop cutter and a pocket-sized one.
Tabletop Cutters – There are those that you use at home in your bar or cigar lounge, and these sit on the table and stay there. These are known as tabletop cutters. They offer considerable weight and are often bulky to prevent them from sliding about while they are in use. The shape and design of these make them impossible to carry in your pocket, making sure they are always right where you left them.
Pocket-Sized Cutters – Pocket-sized stogie cutters, in comparison, are neat, lightweight, and compact. They pop into your pocket or pouch with ease and won't take up too much space. These handy little tools are ideal for men who love to smoke cigars wherever they go.
1. Is it better to use a cigar punch or cutter?
A cigar punch and a cigar cutter offer two somewhat different finishes to the tip of your cigar. A punch will leave a few small holes in the end, while a cutter slices the end right off.
While some prefer the smaller holes the punch provides, many cigar smokers will tell you that the cutter is far better -there are a few reasons for this.
Smoke – The punched holes do not allow large amounts of smoke to be pulled through the cigar as they offer a lesser surface area. A clean-cut cigar, by comparison, makes thicker, more flavorful smoke.
Draw- Because the punched holes don't provide sufficient space for the smoke to pass through the cigar, the draw is more difficult. A cut cigar offers an easy draw.
Flavor- Much in the same way that the draw is affected with a cigar punch, the same can be said of taste. A cut cigar offers a deeper, fuller flavor.
Size – A cigar cutter fits neatly into your pocket. However, the punch wins here. These punches are often small enough to attach to your keychain, making them easy to carry around with you and much more challenging to lose.
2. How do I cut a cigar?
How you go about cutting your cigar depends mainly on the type of cigar you have. There are two main styles of cigars; include Parejo and a Figurado.
Parejo – These are the most common and feature a rounded shape at the tip. Common types include a Corona, Robusto, or Toro.
Figurado – These are any cigar that has an unusually shaped tip. Most often, they feature a tapered end, such as a Torpedo or Pyramid.
Different cutters are used to cut different cigar shapes – a V-cut won't be used for a Figurado. A guillotine-style blade, however, will work for either a Parejo or a Figurado. Ultimately though, the idea behind cutting your cigar is to achieve a straight, precise slice.
To make this easy for novices, we will discuss how to make a straight cut in both tip styles.
Parejo – You will need to look closely at the cigar and find what is referred to as the "shoulder." The shoulder is the cigar area where the rounded part of the tip starts straightening out and becomes flat. It is at this shoulder that you will make your cut.
Another rule of thumb is that you should cut off 1/16th of an inch or around two millimeters.
Next, place your cigar into the cutter with the blade positioned where you want to make your cut. Then, in a single, swift movement, cut. Going slowly is not the key here as it could pull tobacco from your cigar.
Figurado – A pointed cap requires a slightly different method than a rounded cap, as you will need to take a little more off the end. The amount you cut off will depend on the cigar. You will need to cut off just enough to expose sufficient tobacco to get an easy draw. However, the actual cutting itself is the same as for a rounded tip – you want swift action.
When it comes to finding a nice cigar cutter that suits your needs, you will need to map out your own criteria. Once you have done that, finding the best one comes easily. We hope our reviews make finding the perfect cigar cutter a simple task for you, or at the very least, provide you with some valuable insight.
Our best bet and top pick, go to Vertigo's Big Daddy 80 Ring Gauge Cigar Cutter if you are still unsure. It will cut pretty much any cigar, and it works well for larger gauges too. It is neat and offers remarkable quality.
The post The Best Cigar Cutters for 2021 appeared first on PrimandPrep.
Original source: https://www.primandprep.com/best-cigar-cutters/